This is a quick overview of the November 2018 Hood River County Real Estate market. The average* sales price has DECLINED by 3.9% compared to November 2017. The median* sales price has remained flat compared to November 2017. The decline in average sales price is driven by higher priced homes staying on the market longer, while lower priced homes generally continue to sell sooner.
Home inventory for November 2018 remained at 3.7 months, the same rate realized in October 2018 and a bit below November 2017 (3.9 months inventory). Looking back 2 years, the November 2016 home inventory was only 2.2 months. This Is a 77% increase in home inventory for November 2018 compared to the same period 2 years ago. A normal market typically has 6 months of home inventory.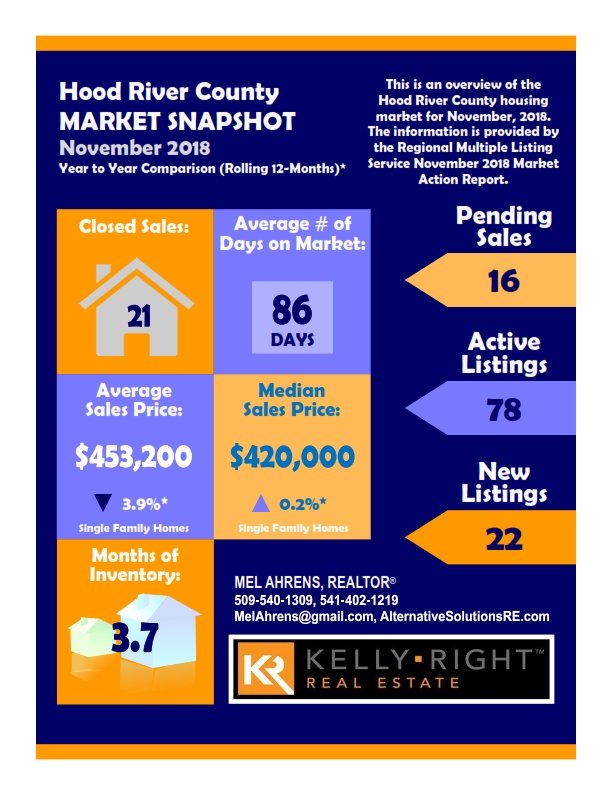 If you would like to look at the market for your specific home, please email me or call me at (541) 402-1219 or (509) 540-1309.
*Note - The average and median sales prices are calculated on a rolling 12-month basis. This smooths out the monthly variability and provides a truer trending result for the time period being reviewed.
Recent Blog Posts
Wasco County November 2018 Real Estate Report
Where Are Interest Rates Headed?
Thinking of Selling in Spring 2019?
2 Myths Holding Back Home Buyers