During July 2019, a total of 28 homes sold in Wasco County. The majority of the sales were in The Dalles (25) with one each in Mosier, Tygh Valley, and Dufur. Last year, July 2018 experienced 36 residential sales; Wasco County residential sales decreased by 22% versus the prior year.
The average sales price was just over $300k ($300,600) averaging 1,922 sq ft. The median sales price was $269,750 with median sq ft of 1,794.
The highest-priced home sold for $525,700 with 2,300 sq ft on almost 10 acres. It sold for 17% more than the list price and received multiple offers. The lowest-priced home sold ($44k, 1,068 sq ft) was a manufactured home in a mobile park. It was for the home only as there is monthly rent due for the land it sits on.
Sixteen sales were for less than $300k, 6 between $300-$400k, 3 sales were between $400-$500k, with the final three sales being over $500k. Average Days on Market (DOM) was 38 days, with a median DOM of 8 days. Two homes sold after 276 DOM and 324 DOM, respectively. When these two homes were excluded from the DOM calculation, the average DOM was only 17 days.
There were 4.8 months of inventory available for sale at the end of July 2019. Inventory available for July 2018 was 2.8 months. This is a 71% increase in inventory, a substantial amount.
The fact that inventory has increased significantly, while Days On Market (DOM) remain low, is very unusual. It shows that sellers are pricing their homes to sell. One reason homes are selling is sellers are dropping prices rather than wait for a buyer. See my recent blog on price decreases in Wasco County for more details.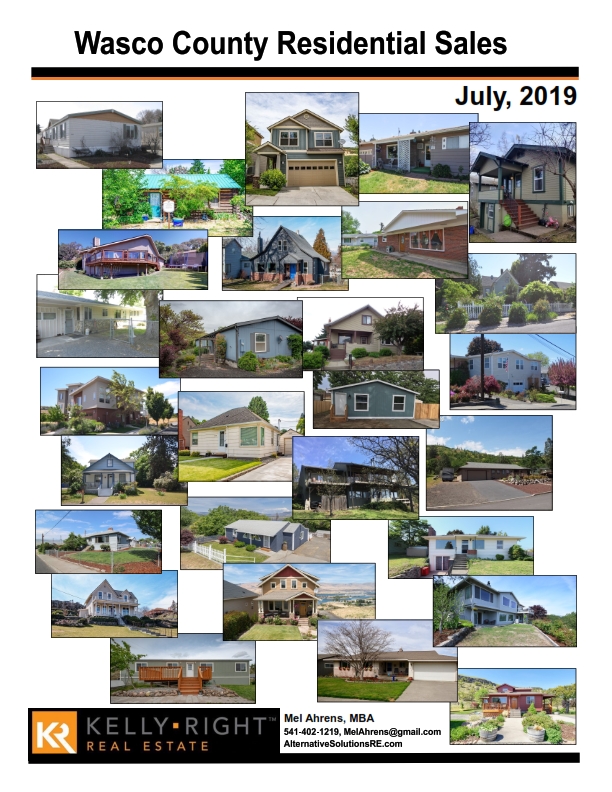 The graphic above shows every home which sold in Wasco County during July 2019. Recognize any of your neighbors?
Looking to buy a home? Looking to sell? Call me to discuss the real estate market in Hood River County and Wasco County. The market is in transition, as evidenced by the increased inventory and price decreases (both the quantity and the size of the reductions) occurring in July 2019. Sellers, it is critical to price your property properly versus your competition. With the increased inventory, it is a good time to buy; let me help you find the right home at the right price. You can reach me at (541)402-1219 or (509) 540-1309.