During September 2019, twenty-six (26) homes sold in Wasco County, ranging in price from a low of $169,000 to a high of $515,000. The average square footage of the sold homes was 2,067, with a median of 1,985 square feet. The average Days on Market (DOM) was 59 days, with a median DOM of 36 days. Homes sold for an average of 4.9% less than list price. The monthly inventory of homes available for sale increased to 5 months in Sept 2019. Previously, the August 2019 inventory available for sale was 3.7 months. This was a 35% increase in available home inventory. Is it indicative of what to expect in the upcoming months? Or is it just an exception to the low inventory experienced since March 2019.
There were 23 homes sold in The Dalles with an average sales price of $305,600 and a median sales price of $290,000.
There was one sale each in Mosier (($391,000), one in Tygh Valley ($305,000, 613 DOM) and one in Wamic ($515,000).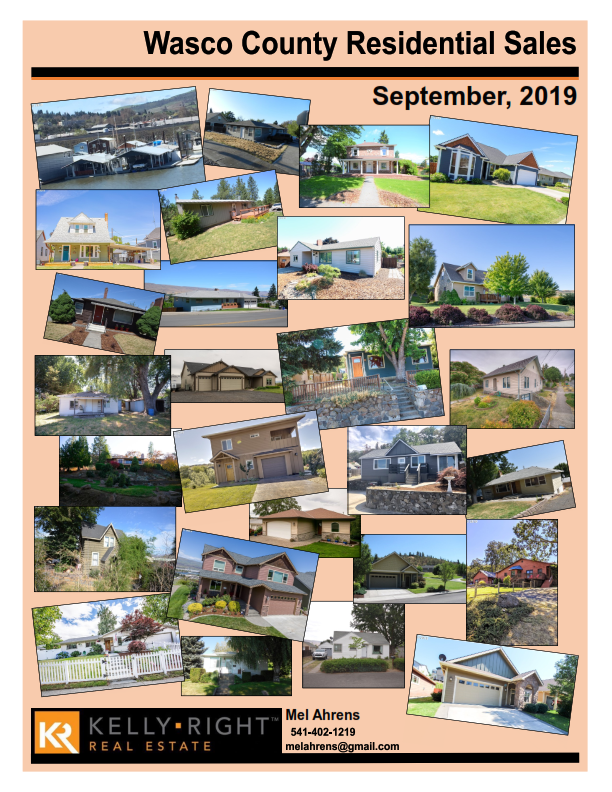 For Wasco County this was the sales activity breakdown by price range for Sept 2019:
Under $200,000 - 1 home sold, DOM of 6 days
Between $200 - $300,000 - 11 homes sold, average DOM of 28 days
Between $300 - $400,000 - 11 homes sold, average DOM of 89 days (37 DOM when excluding 613 DOM home)

Between $400 - $500,000 - 1 home sold, DOM of 53 days
Between $500 - $600,000 - 2 homes sold, DOM of 75 and 116 days
It is interesting to note that 22 (85%)of all home sales fell within the $200-$400k sales range. Most of the sales occurred just over a month after being listed for sale.
Want to find out about home sales in your neighborhood? Call me and we can discuss your home and neighborhood sales activity in more detail.