Mortgage Rate Forecast for 2020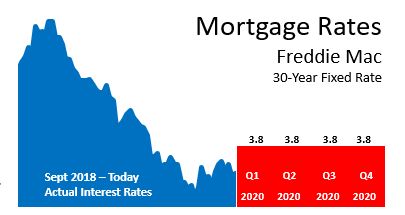 Mortgage rates have fallen significantly, by over a full percentage point since Q4 2018. This is near historic lows. This is very favorable news for buyers looking to get more for their money in the current housing market.
According to Freddie Mac's Primary Mortgage Market Survey, "We expect rates to remain low, falling to a yearly average of 3.8% in 2020 and 2021." Furthermore, Freddie Mac notes this is great news for homebuyers, stating, "Modest increases in home sales and house prices will boost purchase mortgage originations for the foreseeable future."

A suggestion for potential buyers, work with a trusted advisor to help you keep a close eye on how the market is changing. Relying on current expert advice is important when it comes to making confident and informed decisions.

In Summary
A small increase (or decrease) in mortgage rates will impact your monthly housing costs. If buying a home is on your shortlist of goals to achieve, let's get together to determine your best move.